2019 Events
Village Hall Facebook Page
Just as a reminder, Penmaen and Nicholston Village Hall has a facebook page! Make sure to Like, Follow and share it! It's a great way to keep up with Village Hall news and upcoming events!
---
Save the Date – Children's Christmas Party
Dear all,
The Village will be holding the Children's Christmas Party on Sunday, 1 December at the village hall from 3 pm – 5 pm.
All ages are welcome as we will be making christmas cards and decorations for the family, playing games, feasting and there will be a visit from Father Christmas!!
All we ask is for you to bring a dish of food to share.
I will be sending a flyer out shortly with more details.
Thank you and best regards,
Cody
---
Christmas is almost here!
Village Christmas Feast to be held on Saturday, 30th November 2019 at the Penmaen & Nicholaston Village Hall.
We hope to see everyone there!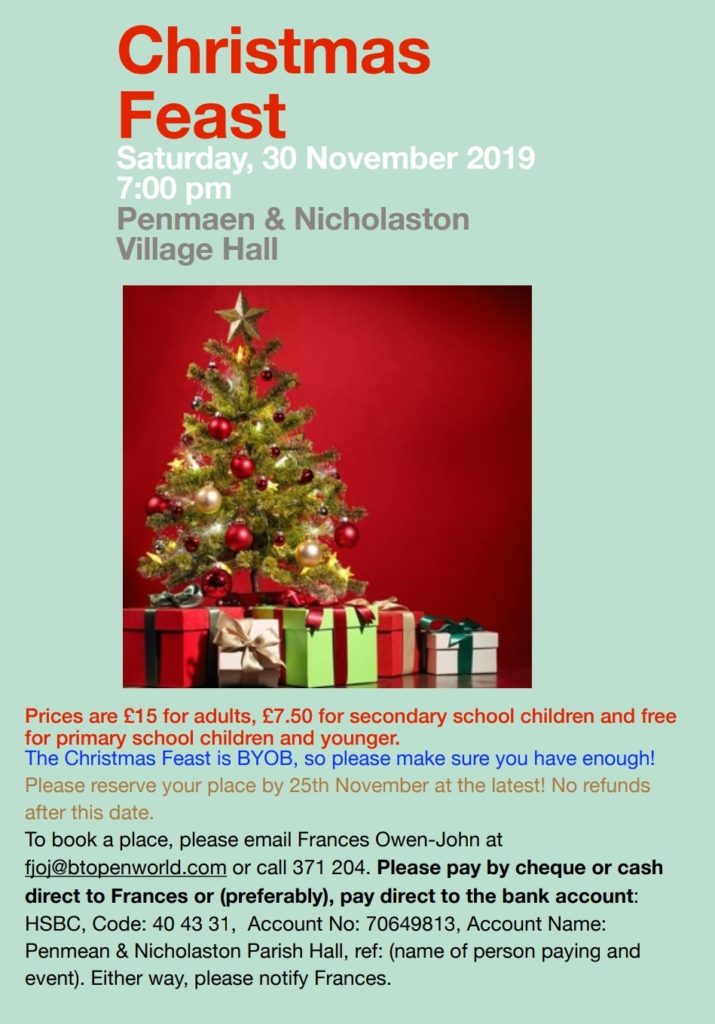 ———————————————
An Evening of Entertainment on Saturday, 21

st

September 2019
Jeff Eley will provide an evening of entertainment in aid of Church funds at Penmaen & Nicholaston Village Hall with doors opening at 7 pm for a 7.30 pm start. Parking will be available near the hedge adjacent to road.
The event will be in two sessions with a buffet supper during the interval.
Tickets are £10 payable in advance with no refunds after 16th September, please book by 16 September.
Tickets available from David Harry (371 615) or Frances Owen-John (371 204) (fjoj@btopenworld.com).
There will be a raffle with brilliant prizes! 
A free drink (wine or beer) will be given with each ticket and thereafter a suitable donation for any further drinks will be accepted.
We look forward to seeing you! 
———————————————
Quiz & Curry Night – Penmaen & Nicholston Village Hall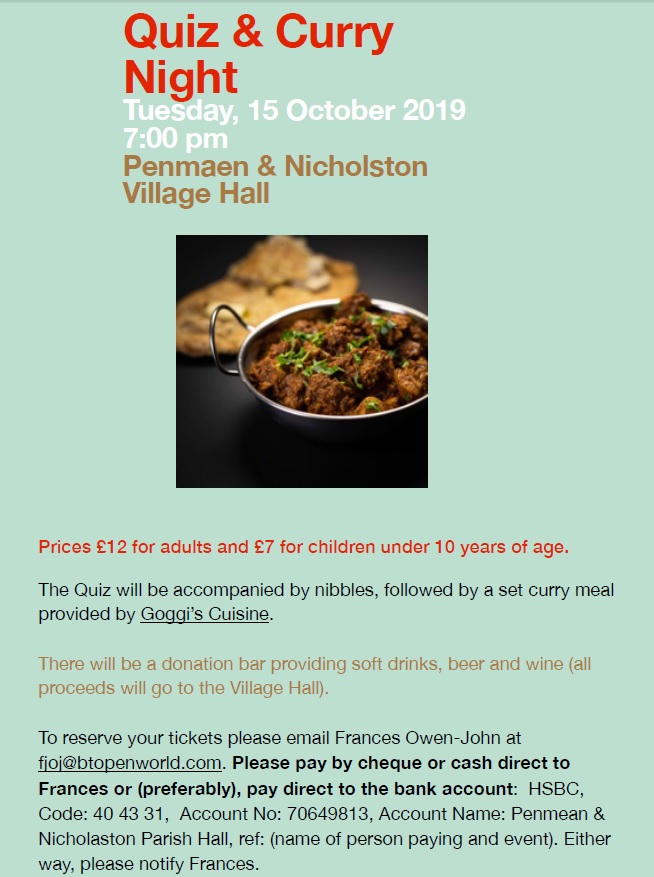 ———————————————
Gower MP Surgery Details – Follow this link for the up-to-date constituency office opening hours for Tonia Antioniazzi,  MP for Gower